Rod Stewart is a British rock and pop singer. Stewart is among the best-selling music artists of all time. He has sold over 250 million records worldwide and has had 10 number one albums and 31 top 10 singles in the UK and has 16 top ten singles in the US.
Rod Stewart along with Cheap Trick played at the PNC Music Pavilion in Charlotte, NC. What a great night for a show. I was very excited to be able to photograph a legend like him. As the time draws near Rod Stewart hits the stage about 10 minutes early. This is a first, most shows never go on on time. Stewart comes out on stage wearing black slacks with a white stripe down the side, a white shirt with a white beaded neckless and a zebra striped tucks coat along with black and white shoes. He kicked off the night with "Addicted to Love," a Robert Palmer song. Stewart was accompanied by some outstanding musicians who added to the spectacle of the carefully crafted performance. The stage was covered from the floor to the top of the rafters with large screens that displayed different images throughout the night.
Stewart is 77 and still has his swagger and sex appeal. He showed off his soccer skills while kicking soccer balls out into the audience. He clearly still has it. Dancing, twirling his mic stand and smiling at the crowd. As the night moves along Stewart has several wardrobe changes. As he gets ready his talented backup singers, musicians, and dancers keep the audience entertained, he has sax players, violin, harp, piano and drums like a mini orchestra.  Stewart put on a remarkable performance. The audience feeding off his energy. Everyone sang every word to almost every song including me. He played all his hit songs like "Maggie May", Da Ya Think I'm Sexy", Young Turks" and Hot Legs". Stewart also took time to turn it down a notch and play some acoustic songs like "Tonights The Night" and "You're in My heart"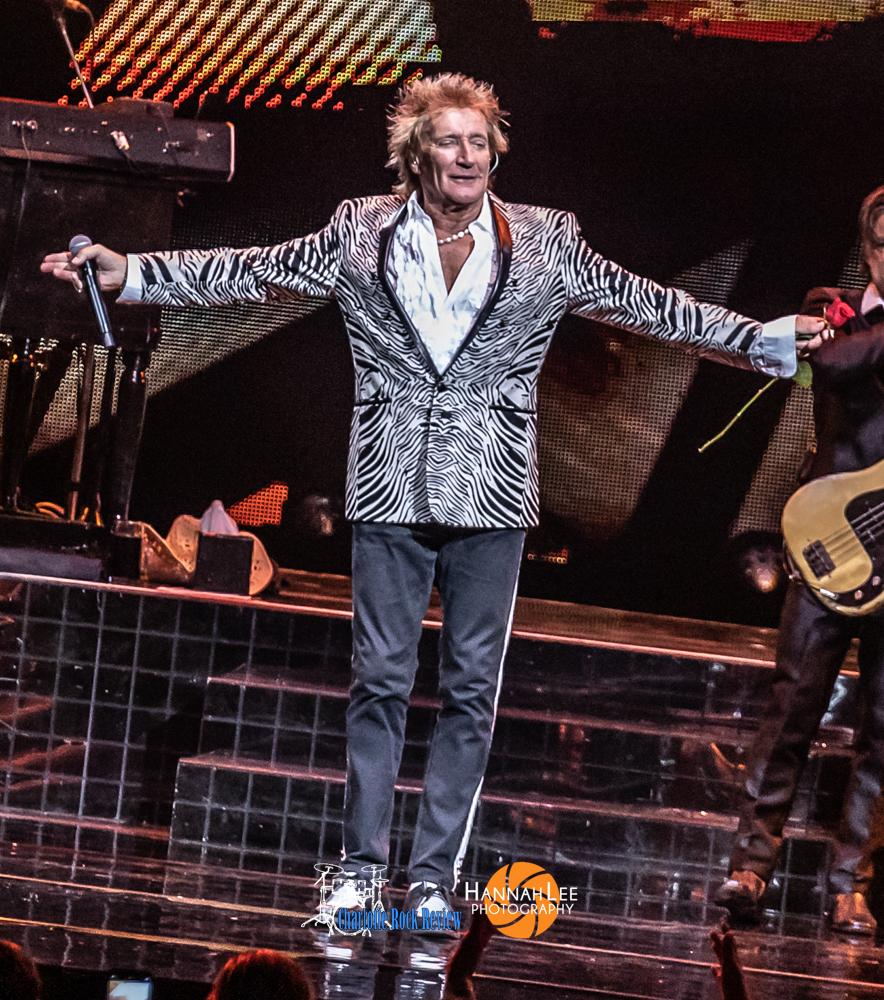 As the evening comes to an end Stewart comes out for his encore and sings "Sweet Little Rock & Roll". He performed tonight for over 2 hours. I can't believe it's over. I'm not ready to end the night and neither is the rest of the audience. The sound, lights and choreograph crew did an outstanding job. I was impressed. This was my first Rod Stewart show and hope it's not the last. He had a spectacular performance tonight. Make sure you catch a show near you.
Follow Rod Stewart on social media