My review from my weekend at Louder than Life has been a little delayed due to the horrific news that shook music fans across the world this week. It occurred to me that during Louder than Life, I felt safe, I never saw anything out of line, and I felt the presence of security always. The campgrounds were thoroughly secure as was the main festival. I have said before and I'll say it again, metal fans are like family. We mosh, we circle in our pits and we crowd surf but at the end of the day Metal Heads attending festivals are a kind bunch of people who share the love of music and the thrill of the large crowd and really look after each other. We as Metal fans across the world join with the country music community across the world to mourn the loss of fans, concert workers and first responders at the Vegas festival on Sunday night.
         Louder than Life 2017 lived up to it's name. This year's lineup included something for everyone who loves Rock and Metal. Headliners on both nights were "bucket list" or "must see" band for many fans. With Ozzy Osbourne on Saturday night and supergroup Prophets of Rage on Sunday, how could a fan not be compelled to stay the entire weekend? All of the opening acts were actually headliners themselves and included Rob Zombie, Incubus, Stone Sour, Rise Against, and In This Moment. The rare and possibly last opportunity to see Ozzy Osborne, who was dubbed "the Price of Darkness" but could easily be the King of all things Metal was alone worth a trip from anywhere to Champions Park in Louisville Kentucky last weekend. 
      The festival grounds included three stages, with the two main stages being side by side. I was very excited to see this as I approached the park. It makes viewing all of your favorite bands much easier. As I walked towards the stage I found Bourbon World and The Big Easy Boil. Later in the day I discovered Rock N Roll BBQ, The Jack Daniels Experience, Down the Rabbit Hole, Heavy Tiki Bar and Love & Fire. The festival also featured a luxurious VIP area that included a large viewing area with bleachers where you could get a great view of both main stages. Inside were Big Screen TVs and great sound from the show, you could watch from leather couches, comfortable tables and chairs, or the upscale bars. Of course the item that makes the VIP ticket worth the price is the clean, airconditioned bathrooms. The usual food vendors were present, along with the specialty food mentioned earlier. Other vendors showed off Rock Wear, Rock Art and Animal Rescue apparel which looks great and contributes to a good cause. As usual, I had to check out the Merch Stands and see what the hardest working guys in showbiz are doing. Event merch was a little sparse than I expected. By Sunday most sizes were sold out of the popular shirts. Although I know festival merch is loaded in and out with the same speed of the fast pace stage turn overs, not every band had representation which is sad for fans and a loss of revenue for the bands.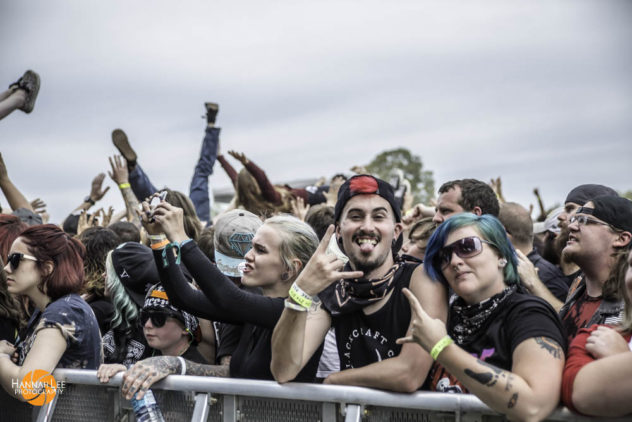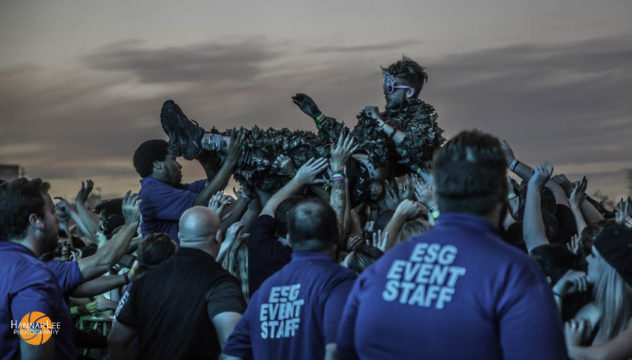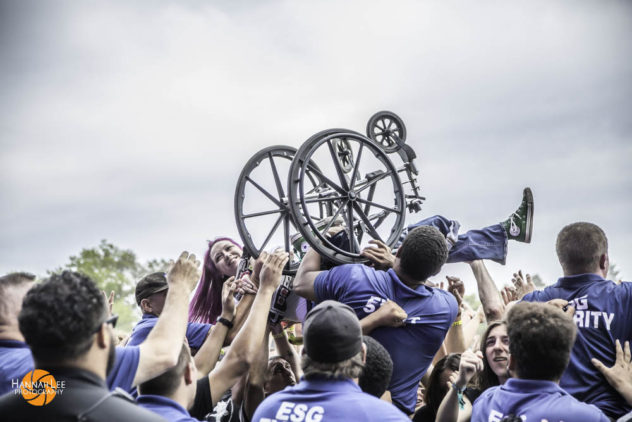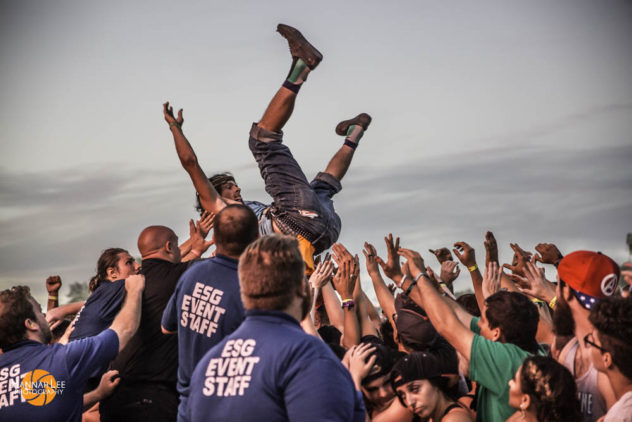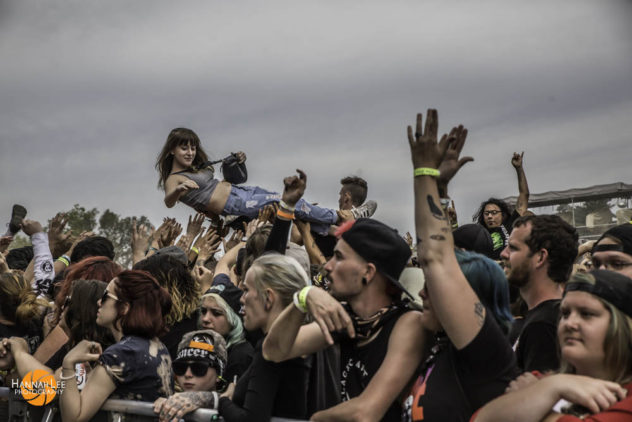 I enjoyed the camping experience in the tent area that was sold out, the RV Area was also packed in deep and sold out. The Camp areas offered clean showers and a variety of vendors for food, camp supplies and even a breakfast buffet! I may have smelled like a farm animal on Monday morning and I decided to hit the shower house, no matter how cold I thought it may be. To my surprise, it was very clean and very hot. The only negative experience I had we as I was leaving another lady coming in asked me if I heard about Vegas. This is where I learned that tragic news.
       My favorite day at Louder Than Life was Sunday, which culminated in the performance by Prophets of Rage, which is made up of members of Rage Against the Machine, Public Enemy, Cyprus Hill and of course Audioslave. They played songs from Rage Against the Machine, Cypress Hill and Public Enemy. The set was slightly political, but mostly fun and high energy except for the only Audioslave song included in what was the most touching tribute to Chris Cornell I've seen since his death. Like a Stone was played with only a spotlight on the microphone in memory of their late singer who passed away in May. The night ended with fist and middle fingers in the air to Killing in the Name Of.  
On Saturday night Ozzy Osbourne ended the night with about 90 minutes of hits from Ozzy's solo projects and Black Sabbath. Zakk Wyld was there to deliver the famous guitar riffs that caused many a teenager go run out and buy an electric guitar for the last 4 decades. Although Ozzy's age and lifestyle may have made an impact he still put on a show to thrill the record breaking crowd.
Be sure to check back for reviews on and interviews with many of the other bands including Incubus, Stone Sour, The Pretty Reckless, Thrice, Falling in Reverse, Beartooth, Lacuna Coil, Joyus Wolf, Palaye Royale, Rob Zombie, Mastodon, Halestorm, Hollywood Undead, Eagles of Death Metal, Sleeping with Sirens, Steel Panther, Of Mice and Men, Gojira, Blackmap, Biters, He is Legend, Radkey, Starset, Palisades, New Years Day and my favorites of the early day performers including, Fire From The Gods, DED, Through Fire and an up and coming band which seems to be in good favor with the festival promoters due to their inspired great music and hard work ethic, For We Are Many. Also performing on Sunday were Nothing More, who I'm told built all of their very entertaining, elaborate and unique stage set and Greta Van Fleet who are barely out of high school but truly taking the world by storm with their throwback sound of the 70's era Led Zeppelin.
Review by Karen Corzine